If you are the owner of a car, you know that it's expensive to maintain and repair. And we all have faced the problem when the engine check light turns on on our dashboard. There are THOUSANDS of reasons why a check engine light comes on, and figuring out the exact cause always required a trip to the mechanic – until now! There is a new affordable device that instantly diagnoses your car's REAL problems for you and translates them into simple, easy-to-understand terms! It's called FIXD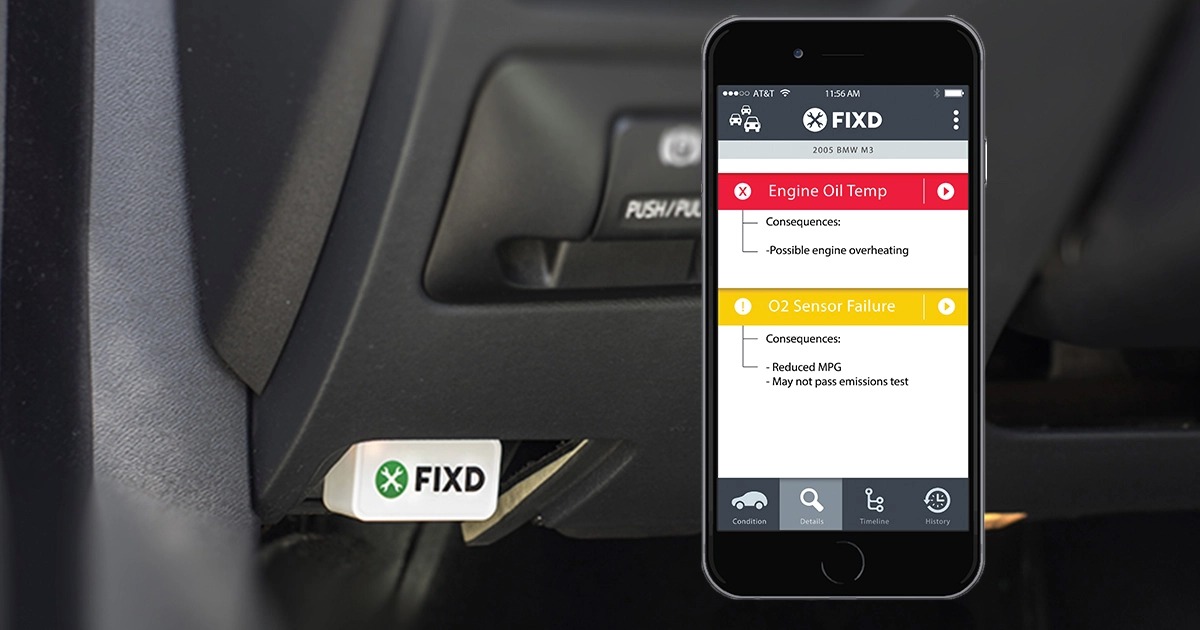 What is FIXD ?
Fixd is a diagnostic tool that you can use even if you have absolutely no experience with diagnosing or fixing a vehicle. It consists of a small sensor that you plug into your car or truck, and an app that you install on your phone. The sensor and app work together to accomplish the same task as the expensive scan tools used by professional mechanics. This system will tell you what you would be told if you rush over to the dealer or the repair shop as soon as the check-engine alert light goes on on your dashboard.
Basically, FIXD car health monitor allows you to access the OBD yourself. And within seconds you can know what's going on with your car, with a simple description of each problem. So even if you don't speak car, you'll get it easily. While it can't detect any car problem, it can detect check engine lights. And its database includes 6,800 possible causes which ones it can detect and translate for you.
How Does FIXD Work ?
Fixd works by tapping into the onboard computer in your car, reading information that's stored there, and relaying the information to an app that you install on your smartphone. It's similar to generic ELM327 scan tools that perform the same basic task, except that the sensor is designed specifically to work with the Fixd app.
You'll want to download the Fixd app, either from the Apple App Store (for iOS) or Google Play (for Android), depending on which platform you use. Launch the app, create an account and sit in your car to connect your Fixd sensor to the app via Bluetooth. Once they're talking to each other, you'll be able to get information about your vehicle from that communication.
Plug it into your car's diagnostic port – takes less than 60 seconds and anyone can do it (even grandma) – no professionals or tools needed!
Sync it with your phone – Using their free app (available on Android & iOS)
Open the App and Press SCAN – just like that, FIXD sends your phone notifications based on your SPECIFIC make and model about upcoming maintenance, engine problems, and more!
Will your car work with Fixd ?
Chances are it is. Because this OBD2 scanner works with all gas, diesel and hybrid cars from 2006 and newer. And it can connect to any vehicle model year 1996 and newer that runs on gasoline. Finally, it also works with trucks model year 2006 and newer which have a gross vehicle weight rating (GVWR) under 3,500 kg.
According to the manufacturer, the car health monitoring system is capable of identifying up to 6,800 engine problems and other problems which can cause the check engine indicator light to switch on.
How much does Fixd cost?
If you want just one Fixd sensor, you can expect to pay $59. The company sells a two-sensor bundle for $88, effectively saving you 50 percent on one of the units. If you want three Fixd sensors, you'll pay $118, which allows you to buy two at full price and get the third free.
Fixd sells its sensors with a 30-day, money-back guarantee.
It's priced affordably at only $59! That's less than a tank of gas and you can purchase it on their official website here.