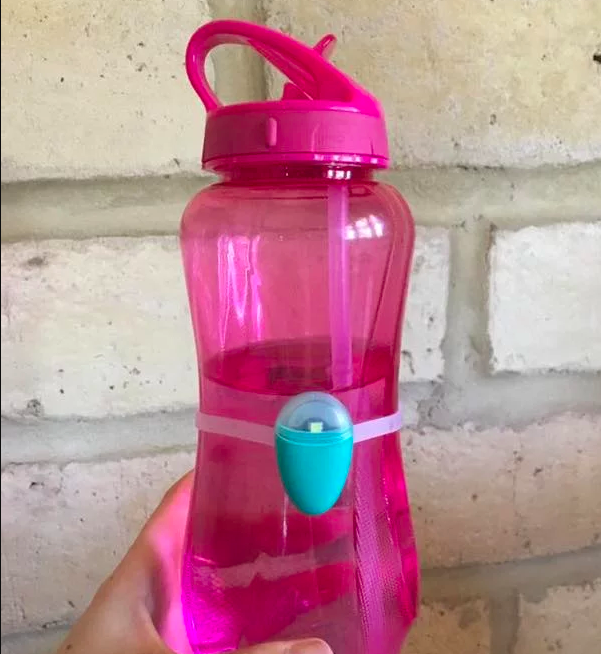 SMART HYDRATION REMINDER
Drink 3-times more water, get healthier, have more energy and avoid headaches with Ulla – your personal hydration coach.
✔ Reminds you to hydrate if you forget
✔ Blinks before dehydration kicks in
✔ Tracks when you drink
✔ Fits on any water bottle
✔ Fully automated
[/vc_cta] [vc_column_text]
Let's talk about something that reminds you of when you need to take a drink water(not anything else of course). The Ulla device is a smart hydration reminder. Go ahead and read our Ulla review.
Did you know that the average adult only drinks about 2.5 cups of water a day (20oz), falling way short of the recommended 8 eight ounce cups. Water is essential for good health and when you are dehydrated your body responds with headaches, fatigue, lightheadedness, poor concentration, bad breath, digestive issues, sudden food cravings and the list goes on and on.
Today I am going to introduce you to Ulla, a little piece of tech that is going to help you remember to drink more water so you can live a healthier life.
The Full Ulla Review
Seriously, enough of the lectures, back to why you are here. Today, I will be introducing you to Ulla, it's a smart device (a cute egg-like tech) that reminds you to drink more water. It is really a simple gadget that does not need any charging or even a mobile app – it comes with a battery that lasts for 6 months.
[/vc_column_text] [vc_single_image image="969″ img_size="full" alignment="center"] [vc_column_text]
Features and benefits
I tried this cute hydration reminder to see if it lives up to its description. Here are the features that I love the most about it.
Smart alerts. We shouldn't drink water only when we're thirsty. This smart hydration reminder has sensors that will alert you to drink even before you get dehydrated. The LED light will flash every 30 – 40 minutes or so depending on how frequently you're drinking. You don't have to consume all the water in one go; taking small sips is already enough.
Tilt and proximity sensors. The tilt sensors work by tracking your drinking habits and whether you're drinking frequently. If it senses that you're not drinking enough, it will automatically remind you and it won't stop until you actually drink. The proximity sensors also sense whether you're nearby, so it won't constantly flash if you're away.
Fits any container. You can actually find a lot of containers with built-in sensors, but its disadvantage is that you can't use it for your other glasses or mugs. This hydration reminder can fit any water bottle, glass, or cup so you can switch any time and still be reminded to drink. All you have to do is put the band around the container then attach it to the band.
Feel healthier. Water solves almost any problem. Have a lot of zits? Drink water. Have dry and scaly skin? Feeling lethargic and having a lot of headaches? Want to lose weight? Feeling constipated. Drinking plenty of water will make it all better.
Eco-friendly. Not only is it good for your health, but it's also good for nature too. This water drinking reminder is best used with a reusable water bottle instead of plastic bottles that you'll just throw away after a single use. And if you take care of it properly, it will last for a good amount of time.
[/vc_column_text] [vc_column_text]
First Impression
At first glance at this device, you might be skeptical about it, but you will also be curious about it. how does this little egg-like device do the trick? The ingenuity behind this device is commendable. You have six colors to choose from.
The device comes in a small box with an instruction booklet that shows you how its used or works. Even though it is splash resistant, it is important to note that the Ulla device is not water resistant, be careful not to drop it into a cup filled with water or when it's dropped in a dishwasher or your sink.
Ulla Pricing And Best Place To Buy
One thing that I really like about Ulla is that it's a piece of tech that can significantly improve your quality of health and don't cost a arm and leg to do so. Ulla is very affordable at the low price of $25 for a single unit. You can purchase Ulla at ulla.io, for $25.00+ shipping. Here is a quick break down of the buying options:
1 Ulla = $25.00 + Shipping
Family Pack 4 Ulla = $70 + Free Shipping ($17.5 per Ulla)
Office Pack 10 Ulla = $160 + Free Shipping ($16 per Ulla)\
Take advantage of the Warranty and Returns, because they want you to be satisfied with what you are paying for, they've added a 30-day return policy, just make sure you have the original pack and your receipt then you can always take it back if you aren't satisfied with it and get a full refund.
[/vc_column_text] [vc_column_text][joomdev-wpc-pros-cons disable_title="no" title="Ulla Hydration Review" button_text="Order Now!" disable_button="no" button_link="https://www.google.com" button_link_target="_SELF" button_rel_attr="dofollow"][joomdev-wpc-pros]
Pros
It requires no charging – you have one less charging to worry about.
It has a light reminder.
Perfectly fits any water bottle
Fully automated
Comes with a battery that lasts 6 months
[/joomdev-wpc-pros][joomdev-wpc-cons]
Cons
It doesn't have an app.
No Tracking
[/joomdev-wpc-cons][/joomdev-wpc-pros-cons]
How Does Ulla Work?
Ulla is attached to your water bottle or drinking cup and can detect when you pick your cup or bottle up to have a drink. It's set to blink a small flashing light if it doesn't sense that you had a drink every 40 minutes or so.
Ulla tracks your water consumption and helps you remember to stay hydrated. Key features of Ulla include: ​
Blinks when you forget to hydrate for too long
Fully automated, maintenance-free system that requires no charging, no apps
Effective blinking and no annoying sounds
accelerometer always knows when you take a drink
Ulla's designed to fit easily on any bottle with a special silicone mounting band.
Automatic on/off : Ulla wakes up when you enter the room in the morning, and goes quietly to sleep when you turn the lights off for the night.
[/vc_column_text] [vc_btn title="Try Ulla" style="classic" color="warning" size="lg" align="center" link="url:https%3A%2F%2Fwww.reviewcounty.com%2Fgo%2Fulla%2F|||"][vc_custom_heading text="Here is a little short video describing how Ulla works:" font_container="tag:h3|text_align:center" use_theme_fonts="yes"][vc_video link="https://youtu.be/aZFvu3WSuFY" align="center"] [vc_column_text]
Warranty And Returns?
Like with any great product, Ulla does want you to be satisfied with your purchase so they are generous enough to offer a 30 day return policy. You need to keep the original packaging and receipt and if you are unsatisfied within 30 days of your purchase you can return the product for a full refund.
Ulla Hydration Reviews And Testimonials
So what are people saying about this product? The general public opinion is very positive and the majority of the people who buy Ulla are happy and satisfied with their purchase!
[/vc_column_text] [td_block_text_with_title custom_title="Here are a few Ulla reviews from customers:"]
"​I love it! I have a desk job so you would think it would easy to remember to drink water, but really all I did was stare at my water bottle all day. I would look at it, but I wasn't thirsty. Then at night I would be so thirsty that I'd be up all night, if you know what I mean. I sleep better at night, I feel better during the day and I even have more energy. It's amazing what staying hydrated and can do for you! I recommend this product to anyone and everyone!" – Amazon Verified Purchase
"​I love, love, love this little gadget! I'm going to a weight specialist and I'm supposed to drink half my body weight in ounces, and this certainly keeps me on track! I definitely recommending buying this if you're on the fence." – Amazon Verified Purchase
"​This is Tucson—we're in the real desert here. And one can become dehydrated very quickly when one lives in a place that has single-digit humidity with triple-digit temperatures. Ulla has been absolutely essential to help me stay hydrated. It does just what it says on the tin; it reminds one to drink water. The neoprene band can stretch to insane levels; I actually have mine on my 64-ounce UnderArmour container. It's a sleek little headache-preventing, hydration-encouraging gadget."– Ullla website customer review
[/td_block_text_with_title] [vc_column_text]
Our Final Verdict
Judging by the role it plays in our lives, a water reminder is definitely one of the things that we need. It can be used in the office or at home every day. The Ulla device reminds you to take a sip of water even when you are really busy or distracted. So, I will give it our Spot the trends seal of approval.
[/vc_column_text] [vc_cta h2="Here are a few Ulla reviews from customers:" add_button="bottom" btn_title="Read Full Reviews!" btn_color="warning" btn_size="lg" btn_align="center" btn_link="url:https%3A%2F%2Fwww.reviewcounty.com%2Fgo%2Fulla%2F|||"]
"​I love it! I have a desk job so you would think it would easy to remember to drink water, but really all I did was stare at my water bottle all day. I would look at it, but I wasn't thirsty. Then at night I would be so thirsty that I'd be up all night, if you know what I mean. I sleep better at night, I feel better during the day and I even have more energy. It's amazing what staying hydrated and can do for you! I recommend this product to anyone and everyone!" – Amazon Verified Purchase
"​I love, love, love this little gadget! I'm going to a weight specialist and I'm supposed to drink half my body weight in ounces, and this certainly keeps me on track! I definitely recommending buying this if you're on the fence." – Amazon Verified Purchase
"​This is Tucson—we're in the real desert here. And one can become dehydrated very quickly when one lives in a place that has single-digit humidity with triple-digit temperatures. Ulla has been absolutely essential to help me stay hydrated. It does just what it says on the tin; it reminds one to drink water. The neoprene band can stretch to insane levels; I actually have mine on my 64-ounce UnderArmour container. It's a sleek little headache-preventing, hydration-encouraging gadget."– Ullla website customer review
[/vc_cta]