Hygiene is one of the most important things not only in kids but in any human being. Did you know that improper sanitation is the cause of most diseases in the world? According to UNICEF, about 11 million young lives are lost due to preventable causes. That's not all; 300 million children are reported to suffer from hygiene-related illnesses every year.
Care starts from home and the little things like mouth hygiene can go a long way in ensuring that your kid lives a comfortable life. Of course, one of the main requirements of mouth hygiene is toothpaste. You can get this at any store around you, but is that brand legit? Many people suffer from tooth-related conditions not because they do not exercise hygiene but as a result of using counterfeit toothpaste.
Since this product comes in contact with your kid's mouth, it is best to go for the safest ones in the market. In this article, we will guide you on how to choose the most ideal toothpaste. We have also researched some of the best brands in India and we think you might be interested to check them out.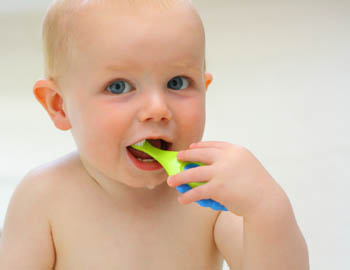 At that time I researched a lot for the best tooth paste for kids, had a word with my friends and with my mother's friends, even consulted a few dentists for suggestions on the best tooth paste for kids. And based on that experience I have been able to compile this list.
One thing that you have to take care of is never let a kid use adult toothpaste or paste which contains fluoride . You may have heard or read that adult toothpaste's remove stains in kids teeth easily, but the long term effect of these toothpaste can be bad for kids teeth.
The reason being that young kids can ingest the toothpaste while brushing and too much of it can cause flourosis, which in turn can cause some white spotting on child's adult teeth. That is why a quick solution should be completely avoided in such cases.
Top 10 Best Toothpaste For Kids
Best Tooth Paste For Kids
Read on as we present a list of the best toothpaste brands, to empower you to choose well when purchasing a toothpaste for your kids.
Pediflor
As mentioned, my daughter's dentist suggested Pediflor to us. The toothpaste is available in two flavors- strawberry and green apple.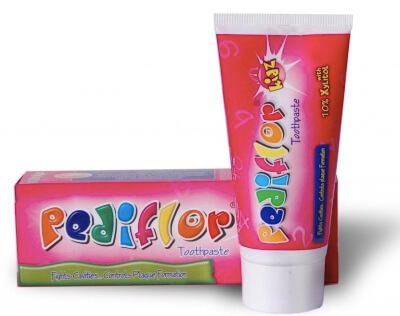 It contains 458 ppm of fluoride and 10% Xylitol as active ingredients, which is a sweetener as well as effective in fighting harmful bacteria and preventing cavities. Having used it for past 1 year, I can vouch for its efficiency in fighting cavities as my daughter has developed none.
As for reducing stains, comparatively my daughter's stains have reduced by 70-80% at least. Manufacturers also claim that the toothpaste is effective in preventing tooth decay, caries and plaque. And it contains fluoride, so it is strictly recommended to be used by children aged 2 years and above.

Kidodent
Kidodent is yet another toothpaste that is recommended by doctors. The toothpaste is effective in preventing carries, plaque and dental cavities.

The active ingredient in it is Sodium monofluorophosphate, which is a medicated fluoride oral gel. There are no other major ingredients, thus making it one of the safer alternatives for children. Just like Pediflor, Kidodent too has to be used only by kids aged 2 years plus as it contains fluoride in 500 ppm.

Chicco Toothpaste
Chicco was my daughter's first toothpaste. Though she used to ingest most of her toothpaste, she never faced any problem because of it. As for effectiveness, I really can't make a personal comment about it as she never used to brush properly when she used this toothpaste.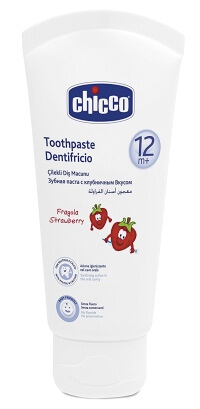 That being said, majority of user reviews find Chicco highly satisfactory and effective in preventing cavities and decay. Smaller kids especially love its strawberry taste.
As it is free of fluoride, Sodium Lauryl Sulphate and other harmful ingredients, you do not have to worry even if your baby ingests it.
Though expensive, the fact that babies love this toothpaste makes it a preferred choice amongst parents for children below the age of 2.

Mamaearth 100 Percent Natural Berry Blast Kids Toothpaste
Being free of fluoride and Sodium Lauryl Sulphate, Mamearth is one of the options that you can use as your baby's first toothpaste as soon as his/her first tooth sprouts.
The ingredients of Mamaearth Berry Blast Toothpaste include glycerin, hydrated silica, Sorbitol, Xylitol, Aloe Barbendesis, Lauryl Glucoside, Cellulose gum, stevia and natural strawberry flavor. Manufacturers claim it to be 100% natural and absolutely safe for the baby even if he/she swallows it.
The toothpaste is effective in reducing plaque and dental cavities. It is better to introduce the paste right from early days as some of the reviews suggest that older kids are not quite fond of its taste.
The manufacturers recommend it for children aged 0 to 5. However, after 2 years, it is better to opt for toothpaste with fluoride as it is necessary for preventing cavities.

These are the best toothpaste for kids under the age of 5, they are extremely helpful in maintaining the dental hygiene of your child on a regular basis. If you have any other experience or suggestions please do share with us in the comments.