If you have room for one, you don't have to beat the comfort of a best treadmills. Sure, stationary bikes and rowing machines are great for a cardiovascular solution at home too, but if you're looking for high levels of indoor runner, look no further.
Not only are treadmills gentler on the joints, they also allow you to rack up miles whenever you want. Curse of time.
Here are the 10 Best Treadmills in India.
Let's take a look at the Best Treadmills!
Finding the best was next up on our list of challenges. After several hours of testing, we decided on a few models that we think are suited.
Here are the Top 10 & Best Treadmills in India in 2021
The key deciding factors in a treadmill selection are:
Decide your purpose
Are you buying a treadmill for walking, jogging or running? Yes, depending on what type of usage you have, you can pick a model. Runners should buy a motorized treadmill with at least 2.5 CHP(continuous horsepower) motor, a good cushioning, and a large track.Joggers should choose a lighter variant treadmill made for runners. For those who like to walk can buy a cheaper treadmill with motor power 1.5 CHP or above. We recommend a manual treadmill for walkers as well. They are more affordable and convenient to use.If you are planning to lose weight along with running, then inclination should be a must-have feature.
Motor and Track
The motor is the most crucial element of a treadmill. It decides the durability and longevity of a treadmill. You should check for motor CHP value (Companies often advertise the motor's peak value but hide the CHP) and its warranty. We recommend a motor with a minimum of 2 CHP and a warranty of 3 years or more.Track size should be more than 50 inches in length and 20 inches wide for running. Look for cushioned tracks to lower the impact on joints.
Space and Storage
When buying a treadmill for home, you should check the available space and treadmill size. People realize this only after buying a treadmill. If you have problems with space, buy a foldable treadmill.
The above points are the key factors, but there are several other points. We have covered a detailed buying guide below, which includes some additional features you should check.
Types of Treadmills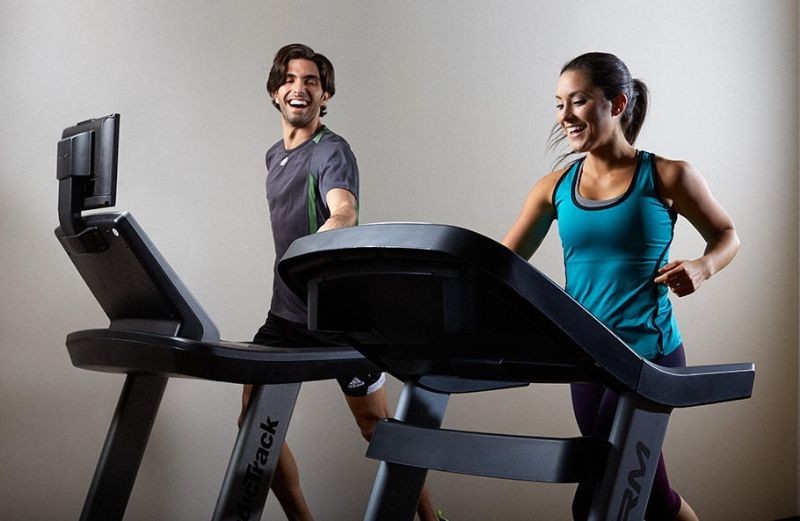 Treadmills can be separated into two main types based on whether they are manually operated or if they are motorized.
Manual
Manual treadmills are not plugged into an electrical outlet, which means you won't have to worry about tripping over a power cord. However, it also means that the belt is completely powered by you. Due to this manual driving force, you will actually expend more energy on a manual treadmill than you do on a motorized treadmill.
Manual treadmills are less expensive and also safer than motorized treadmills because they stop when you stop. The drawback to manual treadmills is that you miss out on a lot of automatic features that can set your incline or decline, control your speed, connect to WiFi or Bluetooth, and even display an interactive guided workout on an electronic screen. Manual treadmills are also typically less sturdy, making them a poor choice for heavier users and runners who put a lot of force into the frame of the treadmill.
Motorized
Motorized treadmills are the most commonly used version of this exercise tool because they are made with a number of conveniences to help make your workout more enjoyable and effective, though they do have a higher price tag. These treadmills operate on electricity, so once you have it plugged in and turned on you can use the electronic controls to choose an exercise program, set a speed, or set an incline.
Depending on the machine, there can be relatively few or many different workout customization choices, giving you the ability to set a unique workout every time you step on the treadmill. Despite these benefits, motorized treadmills do have safety concerns because the belt does not stop when you stop. This means that it could propel you off of the surface at a high speed. However, most treadmills have a safety line, also known as a safety key or safety cord. It simply attaches from the machine to your clothing and if you move too far away, it will pull out of the machine turning it off, keeping you safe. It is important to follow all of the safety guidelines recommended by the treadmill manufacturer.
Buying Guide
It's great to have a list of the best treadmills, but it's of no use if you don't know what exactly you want. So, when you are planning to buy the best treadmill for home use, there are some important factors that you need to borne in mind while purchasing the best treadmill in India.
This Buying Guide will help you in selecting the treadmill that's best for you to make you understand everything about treadmills, the factors you should consider before buying a treadmill. So, lets start with…
What are features to look for?
Brand:

One of the most important features is the brand. It is not always necessary that the most popular ones come with all your required features. Therefore it is important for you to invest in the right kind of brand earlier in the article we have talked about the best treadmill brands in India in 2019 so you can choose the best for yourself.
Know About Manufacturer's Background and History:

Look at the manufacturer's history since how long the company has been producing treadmills, check company market value and also what are the reviews.
Price:

Another crucial feature that you need to consider at while buying the ideal treadmill in India is its price. Choose the treadmill as per your budget. A decent treadmill can range from 25,000 to 1,00,000.
Warranty:

The best treadmill brands in India offers 3 to 5 years of warranty. So the customer will be satisfied even after buying the product. Most of the treadmills brands in India offer 3-year of motor and 1-year of parts warranty.
Running Area/ Deck Size:

As you don't want a cramped treadmill. That is why a large running area is always preferable.
The running deck represents the area in which you run on the treadmill. It has a belt and a roller on each end. It's important that the running deck has enough space for you. Make sure that it's at least 20 x 60 inches (minimum area requirement).
Besides the size, also consider other features like the running deck has shock absorption. It reduces the impact on your knees, joints, and legs.
Noise:

Go for a treadmill with the least amount of noise, so that you workout either in silence or watching TV, or listen to music.
Size:

Check the size of your treadmill when it comes to placing it in your room.
Manual incline or auto incline:

Look for treadmills that have either the auto incline feature that automatically detects your speed and incline to the floor for a better workout, or have the manual incline treadmill. An automatic incline treadmill is costly than the manual treadmills.
Tracking (heart rate, calories, BMI, pulse):

A must feature before buying the treadmill is – its ability to track different things related to your body. It should be able to track and give reliable data about your progress and the calories burnt along with your heart rate.
Number Of People Using It:

If multiple people will use the treadmill, then go for a treadmill that is more durable.
Also, consider the factor you want the treadmill for walking or running. If you want to run a lot on the treadmill, then buy the best treadmill in India with a more durable belt.
Kind Of Exercises You Want To Do:

1. Before you buy a treadmill, think about your goals. You want to get fit, you want to improve your stamina or you want to lose fat.
2. For running, purchase a powerful treadmill with a high weight capacity.
3. For walking, a less powerful treadmill with lower weight capacity will serve the purpose.
4. If you're an advanced fitness enthusiast, then get a treadmill with a lot of programs and a high weight capacity. I would suggest you go for Powermax Fitness TDA-125 (2.0 HP), Smart Run Function, Auto Lubrication & Auto Inclination Motorized Treadmill for Cardio Workout
Customer Service
If you buy from a better and well-known brand like Powermax, Fitkit, and Duralift, you will get better customer support.
Durability
The durability is a very important issue. You want a treadmill that lasts as long as possible. One way to assess the durability of the treadmill is through the brand. A good brand is more likely to be durable.
Another way is the material of the treadmill. The frame should be made from metal. The stronger the material is, the longer it will last.
Safety
It is a key feature that treadmills should have. First of all, ensure that is safe for you to use the treadmill? If you are not sure, consult a doctor before using it.
Second, check the safety key near the control panel. A safety key is a plug that you can pull to stop the treadmill immediately on emergency.
Manual or Electronic
As per your requirement and usage level select either manual or Electronic treadmill.
Pre-built programs and pre-sets
Treadmills also come with pre-set programs for you to be able to lose weight easier. You can choose from these programs.
Supported weight
The supported weight is the weight that treadmills can support. That's why you need to know how much weight a treadmill can take to make a decision. In case you're overweight or need a treadmill then buy the best treadmill of India, the Powermax Fitness TDA-230 (2.0 HP), Semi-Auto Lubrication, Motorized Treadmill with 15 level Auto Inclination for Intense Workout Sessions.
Power Use
Search for a treadmill that saves up on both your calories and budget. Look at the power usage of a treadmill to make sure the motor of the treadmill uses lesser power.
Maximum Speed
It is an essential feature that you need to check before buying the product for yourself. The general range of speed lies around 14 Km/h to 20 km/h. A faster speed treadmill is for the people looking for losing weight faster.
Lubrication: The moving parts of treadmills require maintenance. The running area requires special care. It needs to be lubricated enough for an efficient workout. Some treadmills come with automatic regular lubrication, some with the manual lubrication.
Display: Display shows you all the parameters and specifications that you need to know while exercising.
Test and try before buying it: Most treadmills look attractive with design and the features that it comes with. But always first try and test the model of treadmill then buy it.
Should you buy a Treadmill online?
In today's digital era, if you buy a treadmill online it will give you more advantages over buying from a mall or a Brand Shop. The delivery will be fast, you will get more discount offers and a number of other offers like doorstep warranty and many more.
That's all for my side on the best treadmills in India and a buying guide. I hope you find it worth. Do share your experience and in case of any query feel free to ask we would love to help you out.
Note: Always choose a Treadmill with user weight capacity at-least 20 Kgs more than your current weight as the impact weight increases during running.
What to Ask Once You Decide Which Machine Is Right for You
Once you have narrowed down your options to figure out which model you want, you then need to consider how you are going to get it home, and what happens if something goes wrong in the future.
Treadmills are very heavy and come in many pieces, so ask about delivery and assembly. This may be included in the price of some treadmills but may cost extra for others.
Look at the treadmill's warranty and ideally purchase one that has three to seven years of coverage on all parts, and also a warranty on labor. Most treadmills come with a lifetime warranty on the frame, and it is best to have that on the motor as well.
Can you return the treadmill if it doesn't work out for you? If the store has a return policy that allows them to take back the treadmill, you may have to pay for the store to come to pick it up and cover any restocking fees. If you buy the machine online, look into how return shipping is handled before buying the product.
How to Choose a Walking Treadmill
A top-of-the-line treadmill can cost over $4,000. However, if you know where you can make some tradeoffs, you will be able to find some great machines that are more affordable than the expensive models.
A lot of treadmills come with bells and whistles that not everyone uses, so take the time to consider exactly what you want before settling on the right machine for you.
Consider Your Fitness Objectives
Are you looking to increase your athletic performance, benefit your overall health, or maybe rehab some injured muscles?
Knowing how you will use your treadmill is important when you are trying to figure out which one is the best for your money.
Consider your Budget
A more-expensive machine will have sturdier construction, a larger running surface, a longer parts warranty, the ability to go faster, and a steeper incline.
But if you are not planning to run at fast paces or walk at a steep incline, some of these features may not be right for you.
Additionally, do you need extra features such as docks for iPods, wireless Internet connectivity, or USB ports?
The Size of the Machine
Most walking treadmills are about the same size, with an average of 77 inches long and 35 inches wide. A folding treadmill can be stored at up to half of this amount of space, but still needs adequate room around it for access and safety.
What to Do Before Buying a Treadmill
It is important to try out a treadmill before committing to buying it. This way, you will be able to feel the cushioning and shock absorption to see if it feels comfortable for you.
When you are walking on your treadmill, make sure your feet don't hit the motor housing on the front of the machine, and also test the width of the machine by seeing if you can easily straddle the belt while standing on the side rails.
As a general rule, if you are using your walking treadmill, having a minimum of 50″ in belt length is ideal, along with 55″ for running, and 60″ for people who are over 6′ tall.
You will want the display monitor to be easy to read and simple to reach and operate. Having a user-friendly machine will allow you to quickly turn the unit off and on, and change the settings during your workout.
Keep in mind what information you will want to know throughout your walk. Do you want to be able to measure your heart rate? Some machines provide more information than others.
Treadmill – Frequently Asked Questions
How do I choose a treadmill?
A treadmill can be your great investment for health if properly selected and utilized. Having the best Treadmill at home can save your lot of time and money on Jim. Before buying you should consider the following factors.
How many peoples are going to use it and daily usage. The maximum user weight (walking) is one of the parameters mentioned in Treadmill specifications. Therefore the weight of the person also needs to be considered while choosing a treadmill.
Your budget is one of the most important factors in choosing the treadmill. Treadmills are available in a wide price range. The capacity of treadmill and features varies as per price. Higher the features, the higher the price. Features like Inclination, Belt length, Control panel, Auxiliary connections add to the user experience and extra benefits. Consider such features if you can afford the little extra price.
The availability of installation space is also one of the factor to be considered while choosing a treadmill. Consider the overall dimensions and free space to be kept around the treadmill. A folding treadmill is the best option for a small space.
How much does a treadmill cost in India?
The cost of a treadmill depends upon its weight capacity, Motor HP, and various features. In India the Treadmill for home use with moderate features and normal usage costs between Rs.14000 to Rs.20000.
Is treadmill good for weight loss?
As we all know, burning calories leads to the reduction of body weight. Walking or running is the most simple and effective way to burn calories. Treadmill facilitates to walk or run and burn your calories more conveniently. The higher the number of calories you burn, the faster will be the result of weight loss.
Is treadmill good for knees?
Running or Jogging creates impact and stress on Knees. It also depends upon the speed and your body weight. If the speed is more or the bodyweight is more then the impact on Knees, Hip joints will be more. Initially, you can just start with walking then gradually increase the speed if your body allows doing so.
Which is better manual or motorized treadmill?
Manual treadmill operates completely on Human effort and hence provide more intense but stressful exercise. The motorized treadmill gives a better user experience and cushioning comfort. The various features and Auxiliary provisions make the exercise on a Motorised treadmill more enjoyable. Learn more about manual and motorized treadmill at the top section of this Treadmill buying guide.
Is Treadmill running easier than running outdoors at the same speed?
Yes, it is easier to run on a Treadmill than running outdoor. While running outdoor it can be difficult to maintain speed because of various problems. Outdoor you face variations in Terrain and turns. You face resistance due to wind flow. You face obstructions if the path is crowded. Variation in running paths like sand, concrete, paver blocks. variation in road inclination.
On the other side, you run on a Treadmill in enclosed or indoor conditions without any outside obstructions. The running path is constant and smooth.
Therefore it is easy to run on Treadmill than outdoor.
Is buying a treadmill a good idea?
As we know that regular exercise is very important for our better health and fitness. The walking, running or jogging are the simple exercises that can be done regularly. Bun running outdoor can be difficult due to various outdoor constraints. Also, the availability of time and different work schedules can put intermittent breaks in exercise.
These constraints can be overcome by having the best Treadmill in India for home use. The treadmill enables you to do regular exercise and outdoor constraints. It also allows doing exercise as per your time and convenience. Therefore buying a treadmill is a good idea and will be the best investment for good health.
Is it better to buy a treadmill or join a gym?
For joining Gm you need to pay the charges. These charges vary according to the facilities, Locations, Training programs and trainers available, etc. The gym has a lot many exercise equipment and facilities. But this may not be required if you are doing only normal cardiac exercise for fitness. Therefore the gym becomes expensive. Also, you need to follow the timeline and rules in the Gym.
The treadmill at home enables you to do exercise as per your convenience. Some treadmill comes with optional features such as Twister, Massager, Dumbells, Situps, etc. This enables you to do other types of exercises. Therefore for normal, cardiac, fitness exercise, it is better to buy a Treadmill.
Where should I put my treadmill in my house?
You should place your treadmill in open space with no obstructions around. It should have easy access. There should be sufficient free space around the Treadmill. There should be more than 6 feets space at the back and more than 2 feet space on the sides.
Some treadmills come with folding and Transport wheel facilities. This enables you to place the treadmill in a safe place while exercise and store in a small space after a workout to avoid disturbance.
Do treadmills need maintenance?
The treadmill consists of many mechanical moving and rotating parts. Therefore regular maintenance will give long-lasting performance and durability. It needs to be cleaned and lubricated on a regular basis. Follow the instructions of the Treadmill manufacturer on the maintenance of the Treadmill.
Some treadmill comes with an Auto lubrication facility that eases the lubrication of a treadmill. The treadmill belt needs to be cleaned regularly to maintain smoothness and improve life.
Can I Keep a Treadmill Outdoors?
Treadmill especially motorized treadmill consists of mechanical moving & rotating parts, Electrical parts and electronic display panel. Therefore it needs to be placed in a dustfree, moisture-free, safe area which is very well possible indoor.
Outdoor Exercising gives additional benefit and enjoyment of fresh air and a pleasant environment. This also increases the challenges of maintaining the treadmill. You need to take extra care and effort to avoid dust, moisture, water, and direct sunlight. Need frequent cleaning of the treadmill. Protect the Treadmill with proper waterproof cover after use.
Conclusion
At the end, we will repeat the most important points one should look at when buying a treadmill. First, assess your needs carefully and then check for space and budget. Once you decide these things, look for motor Horsepower, running area, Warranty and Maintenance carefully for each treadmill in your checklist. Always try to go with reputed brands like PowerMax or Durafit.
We have already checked these things for you and based on that we recommend PowerMax Fitness TAC-400, no doubt it is one of the best models in all departments. If you find this one costly, We suggest go for Fitkit FT200, which is affordable and value for the money.