Kitchen is the place where Indian women spend most of their time daily preparing meals for their family. And, in every kitchen the first requirement is the best cooking gas stove. The gas stove was invented in 1802 it became commercially successful in the late nineteenth century.
These days modular kitchen are the first choice as it gives the kitchen a contemporary and modern look. And to do that a must have is a gas stove and people are quickly migrating from the conventional 2-burner gas stove to multiple burner gas stoves in order to improve efficiency and preparing multiple food items in less time. Today, gas stoves are available with features like brass burners which are very efficient, toughened glass cooktop, steel drip trays, and many more. These gas stoves definitely add elegance and style to your modular kitchen. This article will give you information regarding the best cooking gas stove available in the market with the buyer's guide.
Compare Top 10 Best Gas Stove in India 2020
Reviews of Top 5 Best Gas Stove in India 2019
1. Prestige Marvel Glass Top Gas Table
Overview: This is a new range of prestige which is very compact. It is designed aesthetically to take less counter space. It is loaded with toughened shatter-proof glass top. This type of glass top is easy to clean. The elegant look of gas top is an added style to the stainless steel body.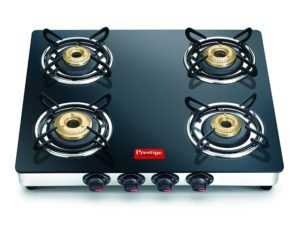 Design: The gas stove is specifically designed with an extra wide body and two levels so that bigger utensils can also be simultaneously and conveniently used.
Specifications: The burners of this 4 burner glass top are made of Brass. The gas top weighs 7 kg and comes with a manufacturer warranty of 2 years. The knobs are designed aesthetically and are easy to use. Pan support is provided (for tandoor cooking) to high efficiency three-pin burners. For easy cleaning of the top, extra drip steel tray is also provided.

2. Prestige Marvel Glass Gas Table
Overview: This high utility gas stove from Prestige is available at very pocket friendly prices. It comes with four high efficiency burners out of which two are big and two are small. Being made of good quality Brass, burners are rust resistant and long-lasting and gives good even flame. As there are Four burners it allows you to cook simultaneously four items. The body of glass stove is made of stainless steel which is also rust resistant as a standard across products.

Design: The elegant looks of the black colored gas top beautifully compliments your modern kitchen. The toughened glass top is of high quality and adds to the looks as well.
Specifications: This easy and hassle free gas top weighs 11 kg and comes with a 2 years manufacturer warranty. Pan supports can be added as an arch to all four 3-pin burners. The black colored pan supports also gives elegant look to the gas stove.

3. Sunflame Classic 3B Burner Gas Stove
Overview: This glass top adds a stylish look to your kitchen with 3 burners. These 3 burners allow you to cook three multiple dishes simultaneously. The toughened glass top can be easily cleaned with a damp cloth. Brass burners are rust resistant as standard in the industry and are easy to maintain. They make your everyday cooking efficient.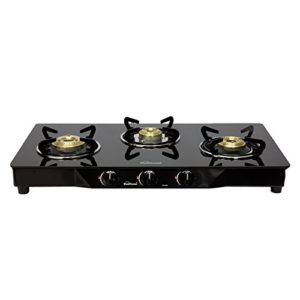 Design: The stainless style mirror finish body along with all the latest features is a perfect combo. With a compact design, this cook top can be easily placed in any corner in your kitchen. The brass alloys of the burners enable even distribution of heat.
Specifications: This classic 3 burner gas top comes with 2 years manufacturer warranty. The top toughened glass sheet is 6mm thick. All burners have pan supports to make cooking easier and convenient.
4. Glen 4 burner gas – Alda
Overview: This is a 4 burner gas top which makes cooking more enjoyable. All four burners have manual ignition feature. The functional usage of 4 burners is a perfect solution to the hustle and bustle of cooking. A wide range of cookware can be used on this gas stove. The stainless steel body of the product makes it more durable and long lasting.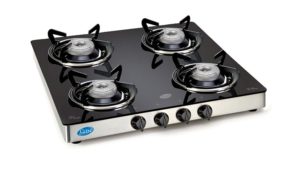 Design: The rich silver matte finish color of the gas stove, made of high quality material gives your kitchen a modern look. The toughened glass on the top of the cooktop is break-proof and easily absorbs the high temperature near the flame. It has become a style statement in today's time and it can be easily cleaned with a damp cloth.
Specifications: Four burners are made up of aluminum-alloys and are very reliable. Pan hinge are of black color and are 4 mm thick. There is an added steel drip tray to maintain the cleanliness of the gas top. The product comes with a one-year warranty.

5. Pigeon Troika Glass-ceramic 3 burner gas stove
Overview: Specially crafted for modern kitchens, this 3 burner gas stove is available in different shapes to compliment your kitchen. The gas top has unique tubular legs for strong and firm grip. This manual ignition product is easy to maintain and clean. The tri-pin brass burners are supported by pan arches.

Design: The totally black colored elegant looks with front-glass make it ultra-modern cooktop. The glass model adds extra elegance to your kitchen. The hinges make for a greater balance. The product is coated with rust proof powder to add durability. The glass look makes your kitchen stylish and shiny.
Specifications: This 3 burner gas top comes with a 2 year of manufacturer warranty. It has ergonomic knobs which control flames efficiently and are easy to use. The burners are uniformly perforated with holes to maintain the uniform flow of heat. The high quality Italian valves of the burner control the flow of gas very efficiently.

Conclusion: Majority of latest gas tops available today are toughened glass tops which add elegance to your kitchen. If you have a spacious kitchen then go for a 4 burner gas top else the 3 burner gas top is ideal as normally all the 4 burners are not used simultaneously. And go for the brass burners as they last longer and gives uniform flame.