The BakBlade is a men's grooming tool in today busy lifestyle, and it is specially designed for hairy men. The packaging of Bakblade has a logo with a Gorilla giving a thumbs up with the words, "Escape Your Ape". So, yes, this product is designed with extremely hairy men in the center of the focus.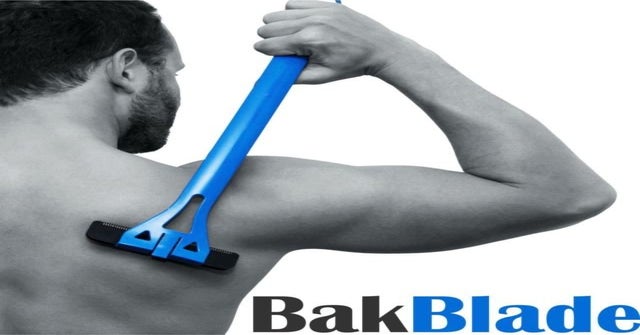 What is Bakblade?
The BakBlade is a large blade attached to a long plastic handle that allows you to reach to those hard-to-reach back hairs and shave them right off without the help of anybody else.
It doesn't need any batteries and it can also be used in both wet and dry conditions. We tries it and our team member used BakBlade in the shower for a smoother and easier shave. The Results were really amazing as he got no cut and it was very quick and easy.
The handle is ergonomically designed for a good grip and maximum reach to the body. It's pretty much shaped like a back-scratcher (after all it uses the same concept) however the bended shape ensures the blade never loses contact with the contours of your body.
The blade cartridges are made specifically for the bakblade and can be easily replaced with very minimal cost of replacement. The cartridge consists of a triple blade head which allows for complete hair removal. The blades themselves have actually been upgraded when compared to the previous model and can now be used for up to 7 or 8 shaves before they have to be replaced.
How to use the BaKblade?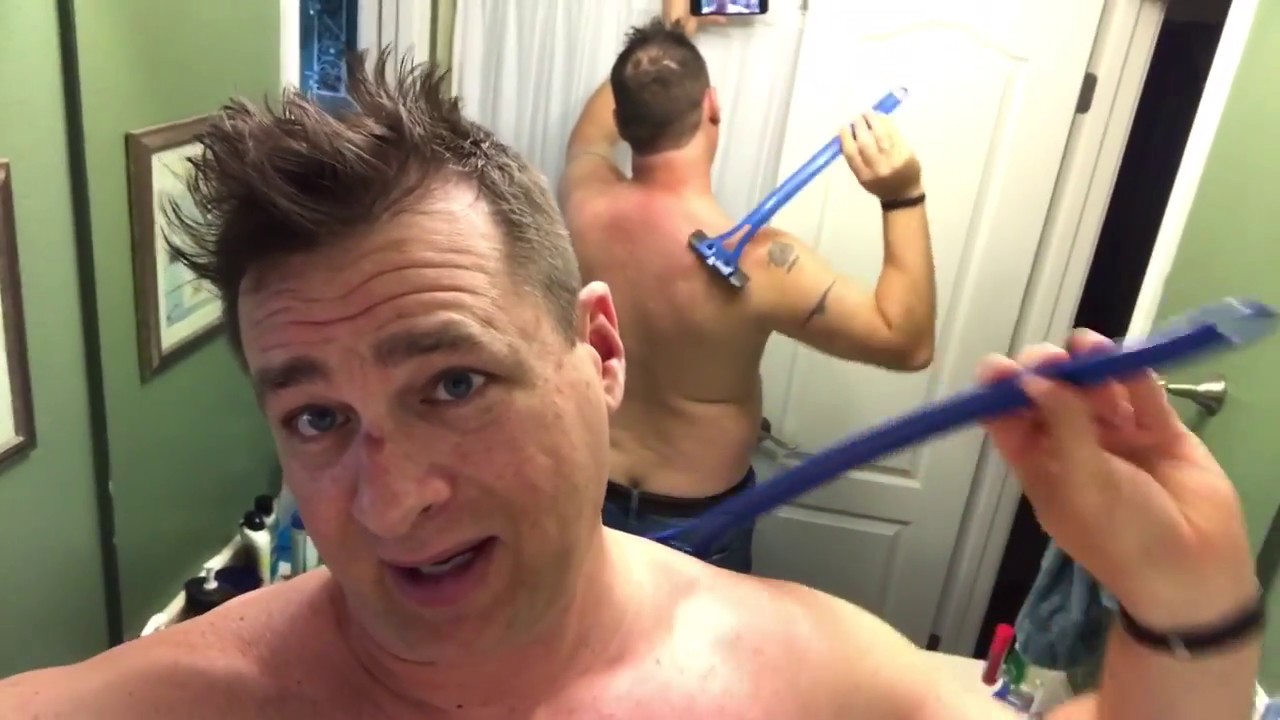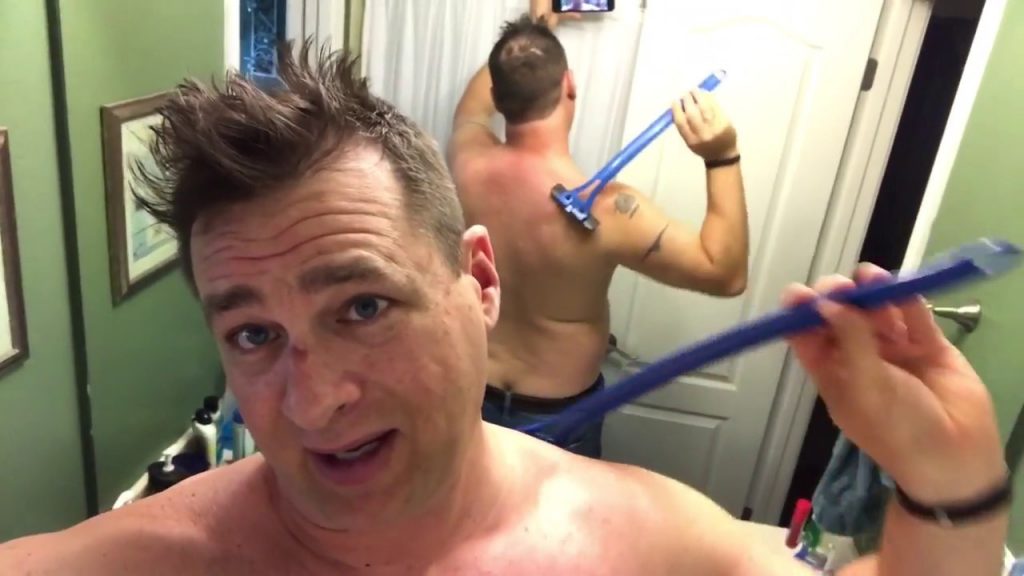 You can start with your upper back. You can easily do this by holding the BaKblade so that the blade will be facing you, then just reach over to your shoulders, putting the blade as low down your back as possible.
Then you can pull the blade upwards in one long motion, rinse and repeat. When you want to shave your lower back and sides you can simply reach down to your side to shave it horizontally.
One alternative that some men have considered is an electric clipper version. One of the problems with a clipper is that if it goes wrong there is likely to be far more damaged caused and since you can't see what you're doing it's best to have a safer blade.
As with any razor, we would recommend that you take your time and be patient. This is a technique that you're not going to be used to and you can only see so much even if you're using a mirror.
We've seen some complaints and pictures of men who have cut their backs using this blade, so make sure to be careful. You should always start light and slowly, increasing pressure and speed until you're at the right level for your skin.
If you're getting any itching from the short stubble on your back rubbing against your shirt then you should try using a shaving cream when you shave with this razor.
If the itching continues then you can buy a body wash that helps to moisturize your skin, this should help to soften the hair on your back and prevent it from scratching on your shirt.
Pros & Cons Of BakBlade
Pros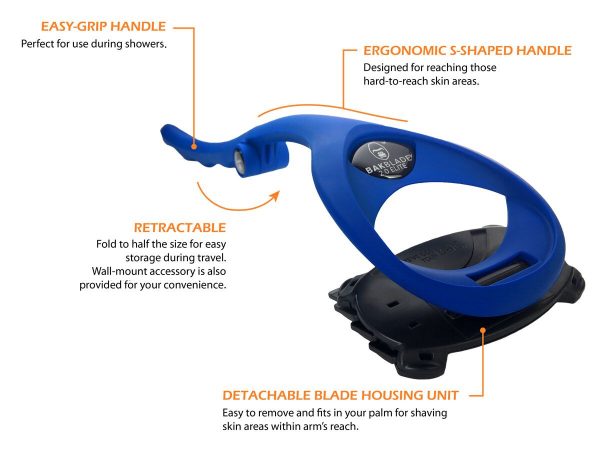 I'm a big fan of BAKBLADES DryGlide technology. Cuts hair effortlessly, without cutting your back.
Cuts back hair is good.
Blade longevity – although I haven't used it once, so far it should last for about seven to eight shaves.
Good news, it still cuts hair like the original.
You can buy a BakBlade 2.0 BaKjacKet, which is a protective cover and back scrubber to clean your hard to reach back.
Can be used to shave both wet and dry.
Folding handle for easier storage and traveling.
Changing blades is a snap.
Really works well on the upper back and shoulders, as it easily follows the contours providing constant contact while shaving.
Didn't cut my back once while shaving my back.
Does Not clog with hair! An important aspect, as the hair, simply drops away.
Stored on the underbelly of this back shaver is a handy little two-sided cleaning brush to keep your back shaver clean and in working order.
Easy to slide the blade cartridges in and out of the head of the shaver.
Cons
Reduced blade cartridge width. From the original version which is a solid 5 inches wide to the version, 2.0 is 3 3/8 inches wide. Granted there are two blades cartridges now, instead of one.
Shorter handle 15 3/4″, while the BaKBlade 1.0 is 17 3/4″. Quite a downsizing. Important note, I have contacted the owner and I was informed the handle will be longer. Another redesign is underway. I really missed those couple of inches when shaving my back and glad to hear that they will be lengthening the handle. I like a long handle on a back shaver.
In terms of weight, the 2.0 is quite a bit heavier the original. As the original 1.0 was extremely light, the 2.0 is at least twice as heavy. Feels very sturdy and highly unlikely to break if dropped.
Just not as good wielding as the original, this might be because of the added weight. As the original is extremely light.
Is the BAKBLADE The Perfect Back Shaver for You?
If you are also looking for a simple solution, this might be the perfect solution for you. At the time of its launch, the BAKBlADE was the first shavers designed specifically with back hair problem at the center. But it continues to hold up as long as to this day and carry some great unique features that make it stand out in the market.
What Comes in the Box
The Bakblade package includes:
Three-cartridge head
Complimentary wall-mount accessory
Three cartridge blades
Blade cleaning brush
BakJacKet Scrubbing Sleeve
Should You Buy This BAKBLADE
The Bakblade brand is not one of the most well-known brands on the market, But the fact is that they have observed and addressed a very common problem that many men have in daily life, that is, shaving their back on their own.
This Bakblade review has introduced us to a very serious and professional brand and company that has come up with a superior product and we are sure to hear much more from this company in the future, especially if they keep their customers happy as they are doing at the moment.
So, After the complete testing of the Bakblade, we will highly recommend this product to all of our readers and assure them about the quality of this product. Bakbalde meets all the promises that it has made and stands apart in the market with customer happiness.